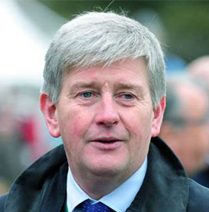 Horses have been an integral part of my life for as long as I can remember. Having started out hunting at a young age from my grandfather's farm in Ireland I joined Edward O'Grady's yard as soon as I finished school and became a conditional jockey. I enjoyed several years there before heading across the water in search of further opportunities.
I landed in Malton and joined Jimmy Fitzgerald's thriving operation in the 80's before branching out on my own to ride as a freelance jockey. After riding the best part of 200 winners I called it a day in 1990 and ran a livery yard from our base in Settrington. After failing to sell one or two horses I had been preparing I took the plunge in to the training ranks. Success was slow to come by initially but with the support of my family and dedication of my team we have worked our way up and now have around 65 horses split between our Bellwood Cottage and Highfield Yard's.
I love training all types of horses be it on the flat or over the jumps providing they have the ability to get their owners into the winner's enclosure. Over the last decade any number of winners under both codes bolstered by the likes of Blythe Knight, Countrywide Flame, The Wow Signal and Signora Cabello to name a few have ensured we have been put on the map. I don't plan on letting it stop here either.