by Camacho (GB)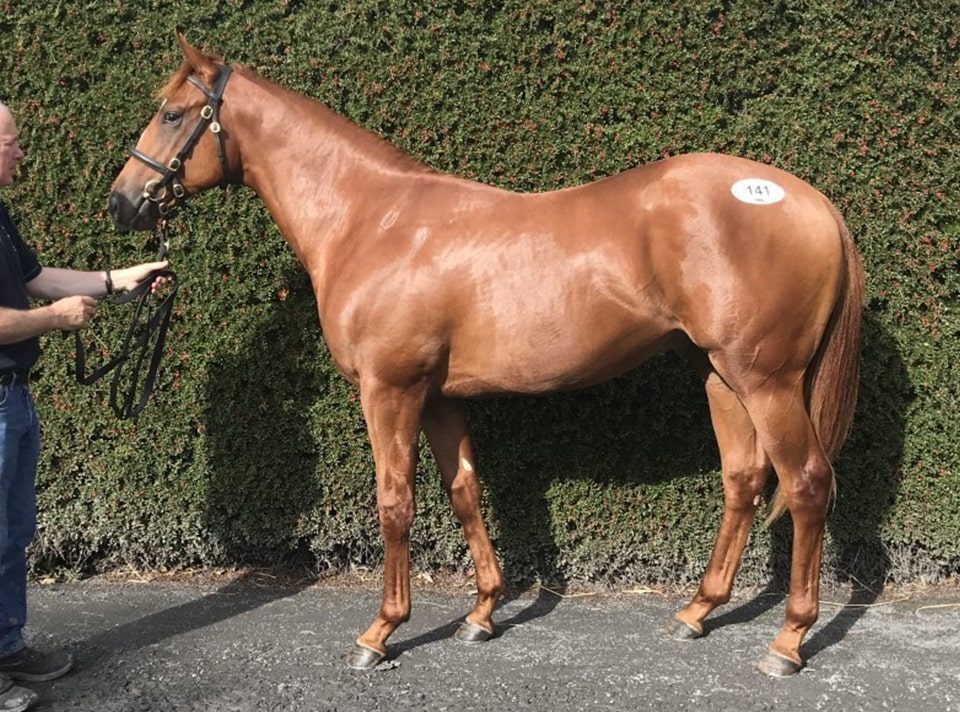 by Camacho (GB)
2018 chesnut colt by Camacho (GB)
ex Beach Candy (Ire) (Footstepsinthesand (GB))
The buying of horses and what we choose to buy is a process whereby we weigh up what a horse looks like physically and what his or her pedigree on paper is like. Both parts are as important as each other in my opinion. However, at the end of the day, these are athletes and they have to look the part physically to be able to excel on a racecourse.
The lead factor in purchasing Lot 141 at the Tattersalls Ireland yearling sales was undoubtedly his physique. This horse is an equine Mr Muscle with the swagger to go with it. We saw him down in the barns the day before he went under the hammer and the colt went high on to our shortlist. When inspecting him for a second time on the day of the sale again there was nothing that I did not like about the horse. He has great depth in the middle of his body and serious power in his hindquarter – this is of course where the power comes from in these sprint horses.
Whilst raving about his physique I should add that his pedigree is very acceptable. He is by one of my favourite sprint stallions in Camacho and his mother was a dual winning two-year-old over five and six furlongs. She is also a half-sister to the Listed winner Bunker who was placed second at Royal Ascot as a two-year-old in the Chesham Stakes.
This colt has been raised as a young horse on some of the finest land in Ireland at Ballyphilip Stud in County Limerick. They have already produced high-class speedsters with the likes of Battaash, Harry Angel and Tiggy Wiggy amongst their most notable graduates.
Purchase Price: E35,000 (plus 5% agent's commission)
CHESNUT COLT
CAMACHO (GB)
DANEHILL (USA)
DANZIG (USA)
1977
1986
RAZYANA (USA)
1981
2002
ARABESQUE (GB)
ZAFONIC (USA)
1990
1997
PROPHECY (IRE)
1991
2018
BEACH CANDY (IRE)
FOOTSTEPSINTHESAND (GB)
GIANTS CAUSEWAY (USA)
1997
2002
GLATISANT (GB)
1991
2009
ENDURE (IRE)
GREEN DESERT (USA)
1983
2002
SISTER GOLDEN HAIR (IRE)
1989